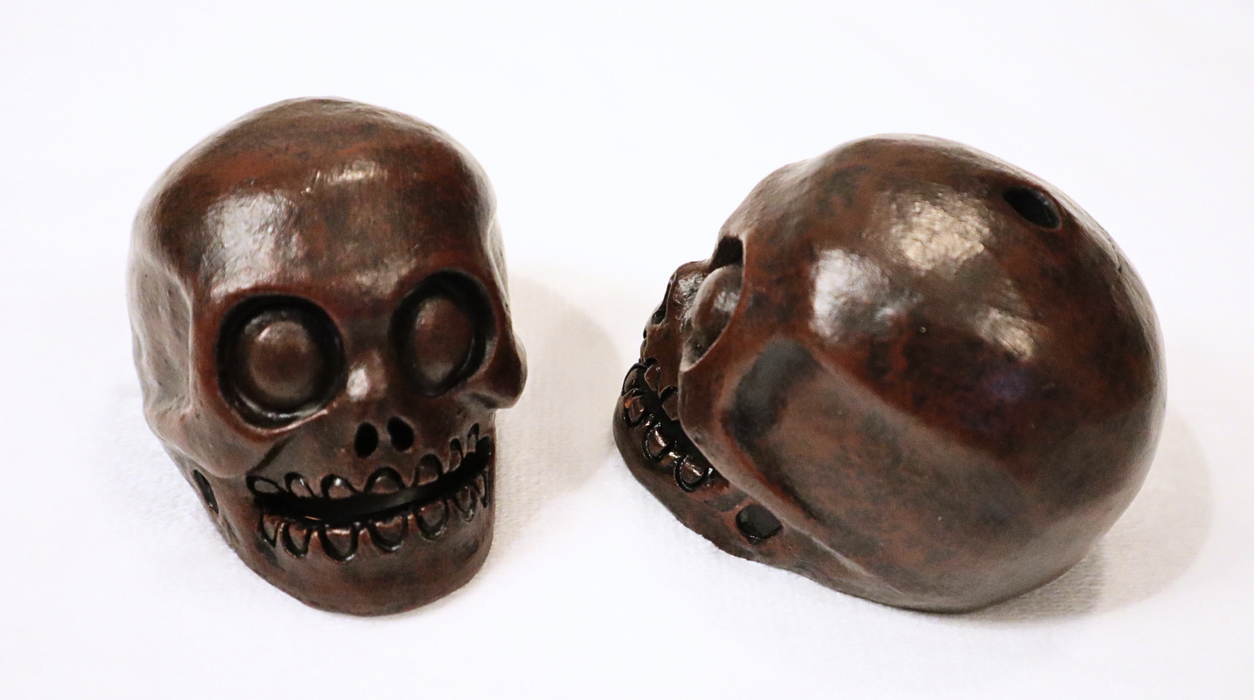 Aztec Death Whistle by Nash Tavewa
Original price
$ 250.00
-
Original price
$ 250.00
Introducing the remarkable Aztec Death Whistle, a handcrafted terra cotta clay instrument that produces a hauntingly chilling sound. If you've ever been captivated by the music of Xavier Quijas Yxayotl, this is the instrument responsible for the mysterious wind sound that sends shivers down your spine.


This whistle was traditionally used by Central American tribes such as the Zapotec, Aztecs, and Mayans to announce the death of a tribal member. The "sacred house" members would play this whistle solo before accompanying it with a drum, a conch shell, and a flute. It was also played on the "Day of the Dead," combined with other instruments.


Each Aztec Death Whistle is hand sculpted from terra cotta clay, fired in a kiln, and then glazed, resulting in a horrifyingly loud sound described as the 'scream of a thousand corpses.' It's a sound reminiscent of the cry of the undead or the torment of a human being burned alive.


The artisan behind these chilling whistles is Nash Tavewa, a member of the Bene Xidza (people of the clouds), more commonly known as "Zapotec". He hails from a lineage of master ceramic artists in traditional Zapotec pottery.


Under the guidance of Maestro Guillermo Martinez, Nash mastered the art of Native American love flute and drum making. His many years of refining his skills with both clay and wood have earned him global recognition as an instrument maker.


Nash's instruments reflect his grounding in Zapotec traditional knowledge, reinterpreting the traditional musical language and dance. His artistry preserves his ancestors' spiritual beliefs in nature as a sacred and divine living being. Nash greatly appreciates his rich heritage, traditions, ceremonies, dances, and music, and seeks to preserve and share this ancient knowledge.


When you purchase this Aztec Death Whistle, you're not just buying an instrument; you're acquiring a piece of ancient history and culture.