Working With Jonny Lipford
Creating M.U.S.I.C.
Inspiring others.
Leading with compassion.

Jonny Lipford is a compassionate leader who is passionate about showcasing the versatility of the Native flute, connecting with the human spirit and encouraging others on their unique path. Find out what what the M.U.S.I.C. is all about!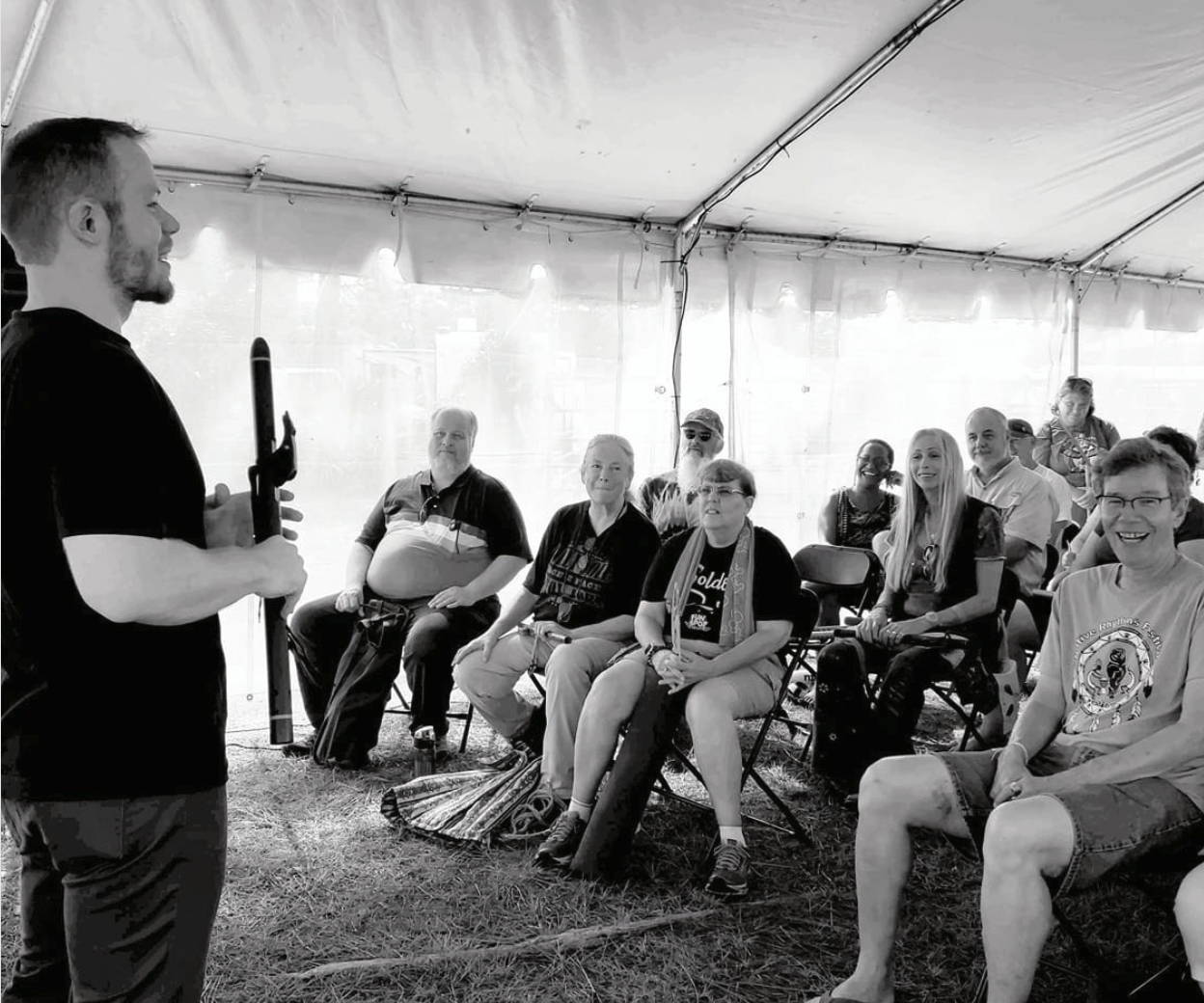 Jonny is also a highly sought-after instructor, due not only to his innate ability to break down complex concepts and make them easy to understand, but also to his way of connecting with and encouraging students. He is the founder of Horizons Flute School, an online learning platform that teaches students of all levels how to play the Native American flute, develop their skills and expand their creativity.
Jonny has carried out over 500 live performances, sharing his passion and testimony with audiences of all sizes–from intimate yoga studios to arenas with more than 14,000 in the audience. He is a gifted musician and storyteller, and his appearances are an unforgettable experience.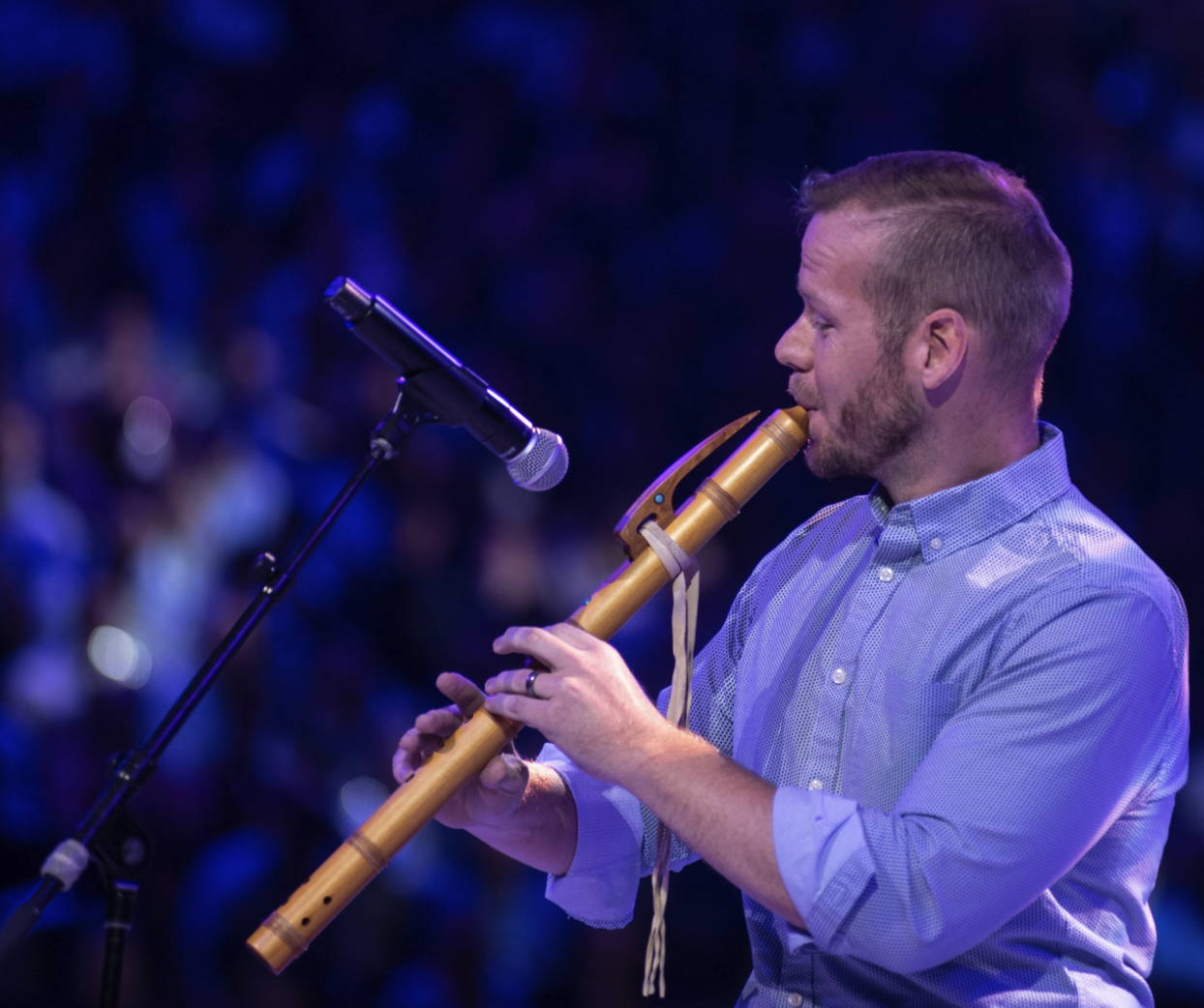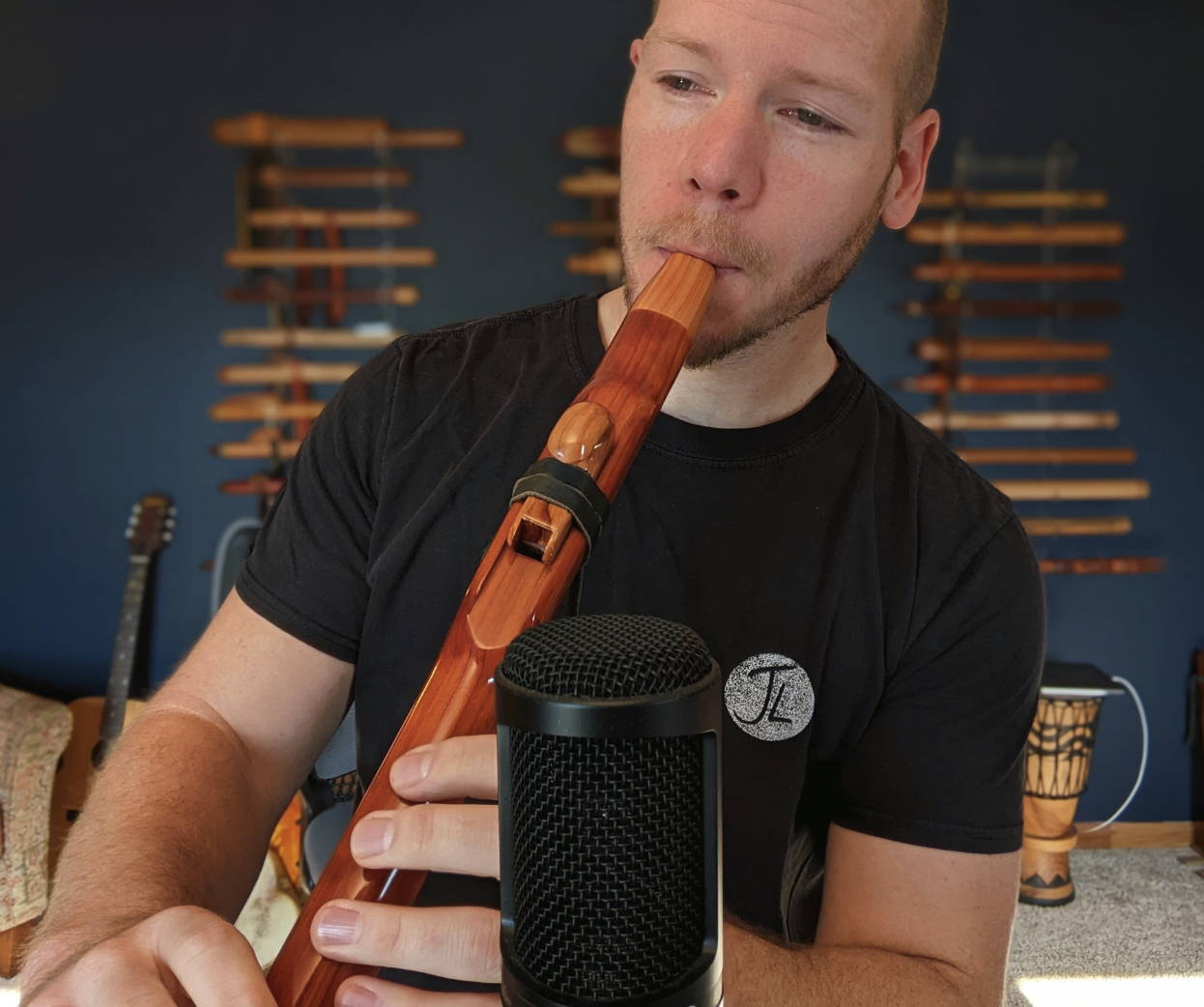 COLLABORATING WITH OTHERS
Jonny is an excellent option when it comes to adding Native and world flutes to your project as he prides himself on delivering clear, clean audio. He has over 200 songs recorded and can work with you to provide the best outcome.
Affiliate & Sponsorship Opportunities

Jonny's passion is sharing the voice of the Native American flute with the masses and in doing so, welcomes the opportunity to collaborate with other organizations and companies whose values align with his brand.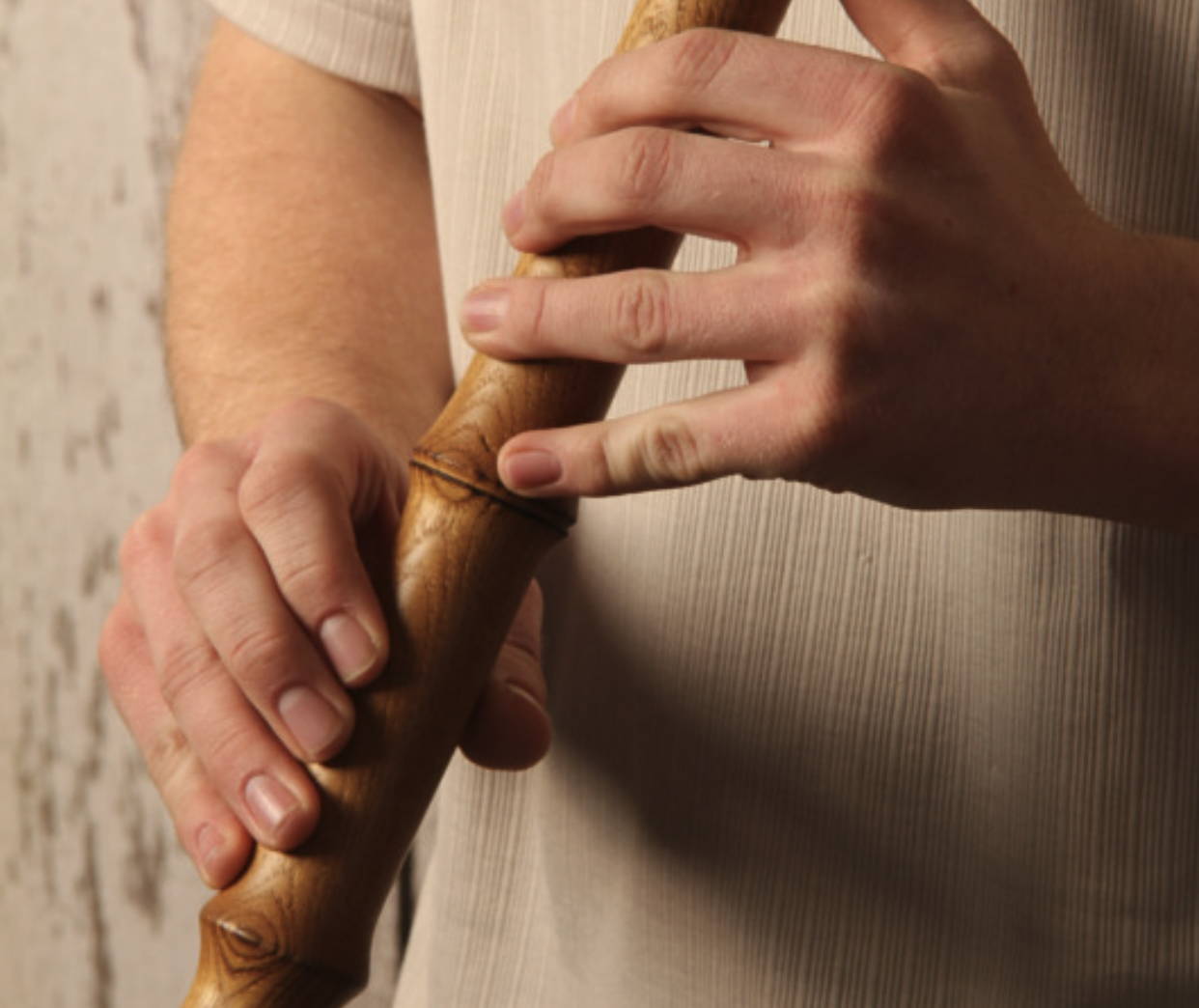 I have worked with all types of artists and when Jonny was introduced to us there was concern that a flute soloist would be able to fill an arena of 14 thousand people, let alone capture an audience. From his first breath to his final note, our audience was transported to a place of pure joy. His ability to connect with our audience was transformative indeed and was the topic of discussion for days to follow. Jonny is a consummate pro who was easy to work with and even able to accommodate our requests for rough tracks to program our lights and sound design. Don't miss an opportunity to work with our new friend.
Dave Gaudet
Senior Creative Director
Spiro Events – North America
Jonny comes to his teaching of the flute leading with the most important aspect any good flute teacher should have; his heart. You can feel the kindness and care he puts into every student. The honesty of his intention drives him to be focused on spreading the message only a flute can offer … grace.
Jonny brings grace to the forefront of his playing, his performing, his teaching and his life.
Don Reed Simmons
President
International Sound Therapy Association – Georgia
Jonny brings a calming, at-ease energy to every performance, while still capturing the attention of everyone in attendance. His performances are at once mesmerizing and relaxing.
Jonny's gift for connecting with the audience is rivaled only by his gifts as a musician. Working with Jonny and seeing him come alive on stage is a true joy!
Andi Lewis
Marketing Coordinator
Prairiewoods Franciscan Retreat Center – Iowa
Jonny is professional, reliable, and inspirational. His warm, positive energy fills the space and his music has a way of transporting my students to a place of deep peace and calm.
I love Jonny's sense of humor, his humility and his willingness to be open and flexible with new ideas. Jonny has such a passion for what he does and truly enjoys sharing the magic of his gifts.
Marsha Neiland
Owner & Founder

Fusion Yoga – Iowa
From the very first conversation, Jonny was engaged, responsive and easy to work with. We knew he was a skilled and respected teacher - one of the finest teachers of the Native American style flute in the country. When he arrived at the venue, he assimilated easily with the staff and took a leadership role from the beginning. He jumped right into the planning and implementation of the School and delighted students and staff alike with his easy-going, cooperative and professional style.
He is a valuable staff member and a masterful teacher. Jonny impacts the lives of all who have the good fortune of being in his presence.
Nancy Haga
Director
Solstice Flute School – Utah
Jonny is an extraordinary musician and storyteller. His huge heart and generous spirit allow him to connect deeply with diverse audiences. Beyond his exceptional flute skills, Jonny's performances are enriched by his passion, creativity, and sincerity, making each concert an immersive and touching experience.

What truly sets him apart is his unique presentation style. He effortlessly draws listeners into his musical world, engaging them with personal narratives and captivating performances. He's not just a flutist, he's a musical ambassador and a charismatic performer whose love for music and people radiates in everything he does.
Jeff Capps
Executive Director
Iowa Children's Museum - Iowa
Jonny's interactions with the audiences during the performances on stage are always inviting and engaging. His fans return for each concert engagement and work their times at the festival to assure getting the best seats for the shows. Each year the workshops he has presented fill up quickly and he is sure to engage with the students on every level from beginner to experienced.
Jonny exudes an energy and spirit that elevates the world around him, whether it be through his music, his teaching, or his friendship. The pleasure of working with Jonny is something to look forward to, and to recognize and give thanks as a true blessing.
Martha Pessaro
Chair

Native Heritage Gathering, Inc. – Florida
Musical artist Jonny Lipford is a unique talent within the greater Cedar Rapids community. A Native American flute player, Jonny's expression, timbre, and creativity are inimitable. My collaboration with Jonny came to be through the Corridor Jazz Project – an educational program through Jazz 88.3 KCCK-FM in Cedar Rapids. My student jazz band from Linn-Mar High School recorded a piece featuring Jonny on the Native American flute. This was one of the most memorable and cherished musical collaborations I have done in sixteen years as a music educator. An advocate for the Native American flute beyond performing, Jonny is well-regarded as a speaker, educator, and collaborator on the instrument and has written numerous method books for those interested in learning how to play. Jonny Lipford is a true master of his craft!
Dan Terrell
Co-Director of Bands
Linn-Mar High School – Iowa

Jonny brings his unique experience to the Native American flute, providing an unforgettable experience for any and all audiences.
Live Performances & Events (+Virtual)
Accolades For Music & Facilitation
Here at Jonny Lipford Music, we listen to the M.U.S.I.C. with more than just our ears, we listen to it with our hearts.