THE NEW ALBUM BALANCE IS HERE!
The journey of self-discovery and acceptance begins with inward reflection.
Balance is a follow-up album to Lipford's award-winning and chart-topping release, Migration (2019). The music on this album is more than just sound–it's a safe space, a healthy escape from your inner worries, stress and anxiety.
The use of Native American flutes and various world flutes harmonize with and float above the lush soundscapes that include piano, handpan, indigenous percussion, guitars and ethereal pads. Close your eyes, breathe, listen with your heart and your ears. Let this music rejuvenate your spirit and usher in a calm and peaceful sense of balance.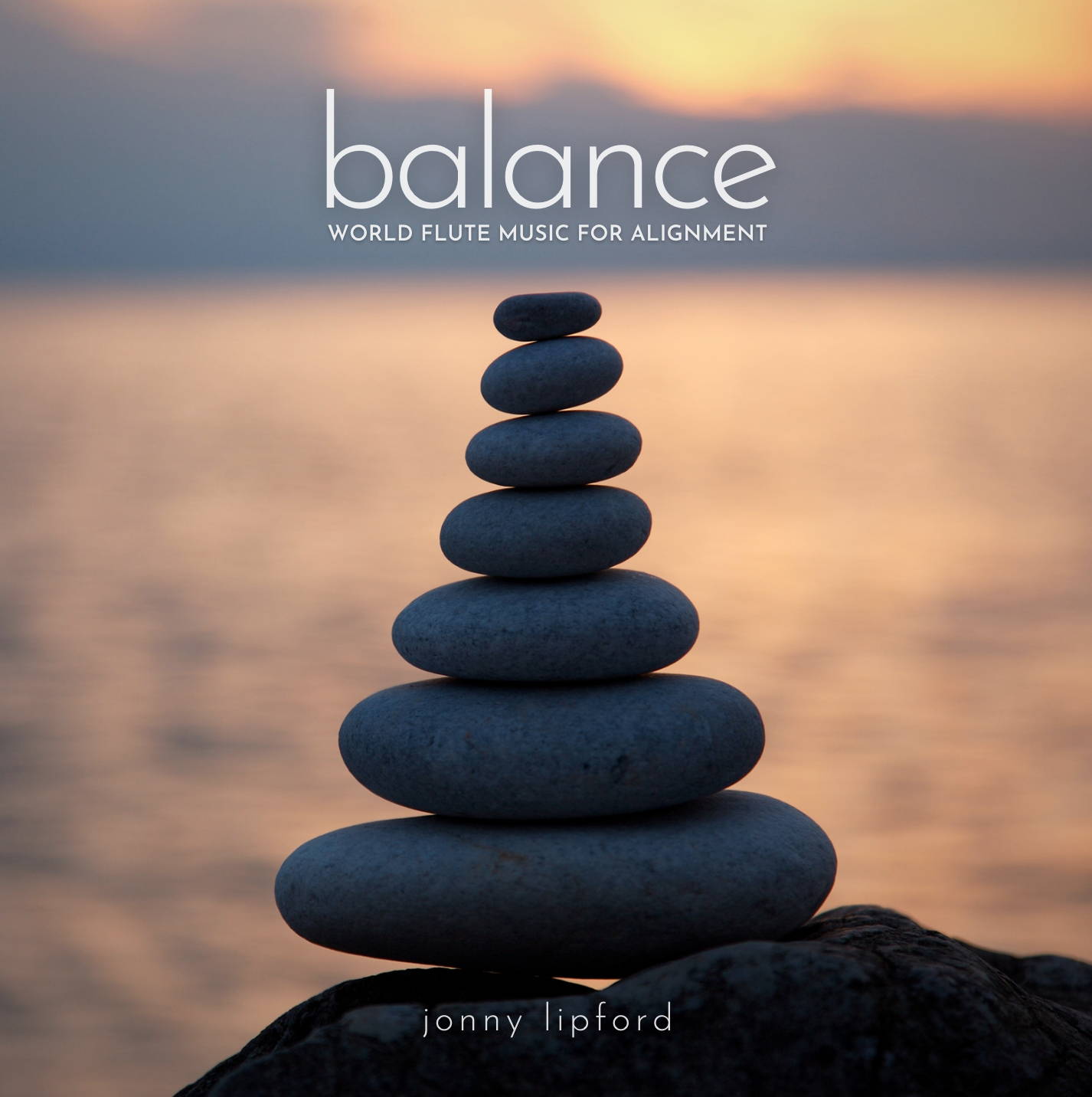 Really love this sound of calm. Much appreciated in this time.
I thoroughly enjoyed your Sun Salutation. I could visualize the sun rising. Thank you for sharing this enchanting piece of music.
This new music preview is a peaceful relaxing journey.
"Jonny's new Balance album is packed with calming and healing flute beauty that will help you have hope for the future… simple, yet totally beautiful music that deserves to be in your collection."

–Dick Metcalf, editor, Contemporary Fusion Reviews
7. Clarifying Your Vision

8. Enlightening Your Spirit
1. Sun Salutation
You wake up and greet the sunrise with a deep breath of gratitude. As you inhale, the sun peeks over the mountaintop and your senses are fully awakened. You see this as a brand new day full of potential.
Instrumentation: Native American flutes, bansuri, handpan & nature sounds.
2. Believing Your Truth
Believing that you are connected and anchored in your truth creates a solid foundation and does not hold you back. You know this stability allows you to move with confidence and connection to who you truly are.
Instrumentation: Native American flute, overtone flute, didgeridoo, percussion, ambient pads & nature sounds.
3. Affirming Your Desire
Affirming that you are full of creativity, wonder and potential allows you to embrace your passions. You lunge forward into joy and happiness as your awareness helps you feel connected and capable.
Instrumentation: Bansuri, Native American flute, ambient pads & piano.
4. Living Your Power

Living with the willingness to stand up for yourself with strength and confidence brings you freedom to make choices. The source of power flows through you to encourage the power of others.
Instrumentation: Native American flute, Native drum, ambient pads & piano.
5. Awakening Your Heart
Awakening your heart and honoring its connection to the hearts of others allows love to fill up your life. This love guides you in all of your actions as you gracefully move to the rhythm of life.
Instrumentation: Native American flute, Native drum ambient pads, piano & nature sounds
6. Nurturing Your Word
Nurturing your word allows you to listen with your whole self before speaking. You share and communicate effectively with respect and authenticity with others. You express yourself fully and creatively.
Instrumentation: Native American flutes, Poet's flute, ambient pads & nature sounds.
7. Clarifying Your Vision
Clarifying your vision helps you become aware that your intuition is your ability to know. You not only dream of, but manifest a happy and fulfilled life.
Instrumentation: Native American flutes, ocean sounds, ambient pads & piano.
8. Enlightening Your Spirit
Enlightening and nourishing your spirit with quiet and relaxing time brings you a feeling of inner peace. You radiate with the knowledge of One-ness and share that with others around you and around the world.
Instrumentation: Native American drone flute, percussion & ambient pads.
9. Moon Salutation
As you watch the sun sink into the ocean, the moon rises higher in the night sky. Knowing the moon is fed by the spirit of the sun brings you the greatest sense of peace. You understand this is the art of balance.
Instrumentation: Bansuri & ambient pads.
Experience a deep peace with beautiful guided meditations over the music of Balance. These meditations have been professionally written and recorded by Maria Lipford and will transport you to another dimension. There is also an e-book, Finding Balance, by Maria with guided meditation scripts, visualized meditation scripts, information regarding essential oils and positive affirmations.
This is an extraordinary experience for ultimate relaxation and inward reflection.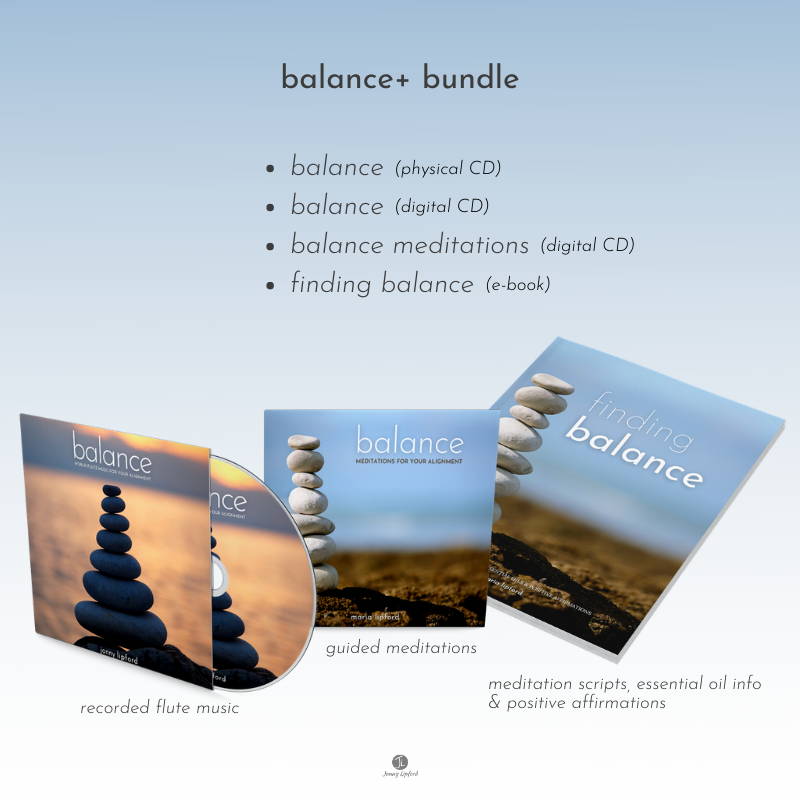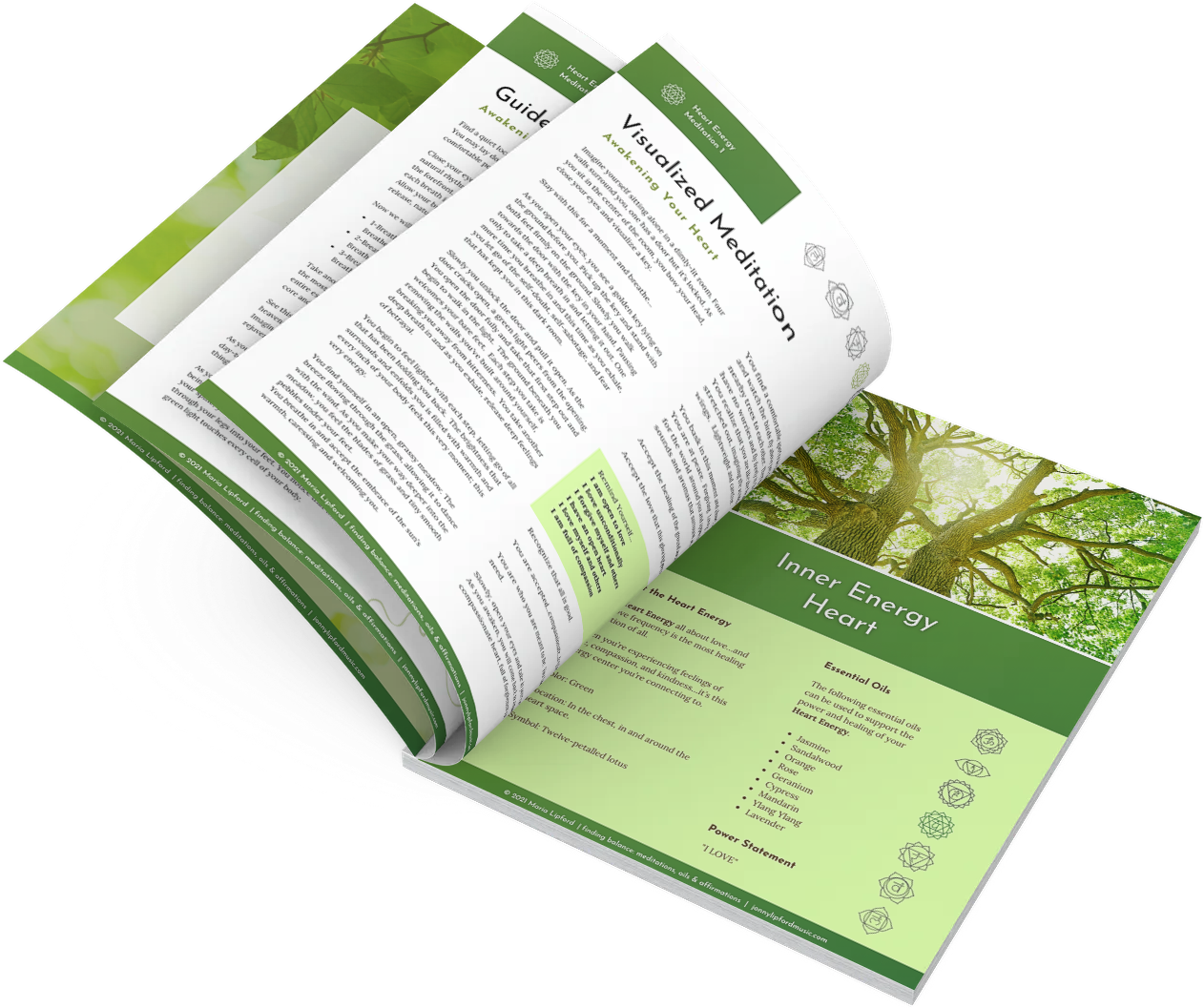 Whether you want to read along with the visualized meditations that Maria has prepared for you, or you want to use these meditation scripts in your own practice, you'll find two beautiful meditation scripts that accompany each song in the Finding Balance e-book. We've also included positive affirmations and information regarding essential oils to better enhance your experience.
"Enlightening Your Spirit" is perfectly paced and recorded, and will help to turn your spirit to the calm we all seek in times of peril.
I give Jonny a MOST HIGHLY RECOMMENDED rating, with a (perfect) "EQ" (energy quotient) score of 5.00… which means he also gets a "PICK" from me for "most powerful flute album".
–Dick Metcalf, editor, Contemporary Fusion Reviews