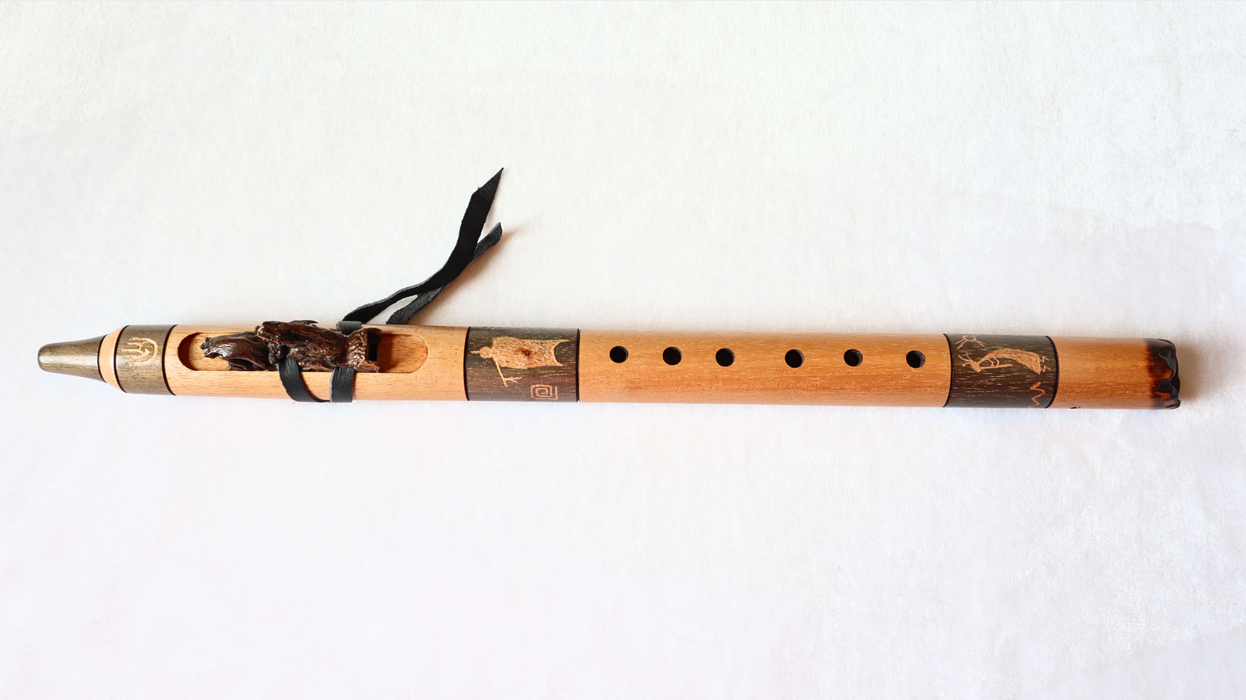 Native Sunrise Flutes - Design Your Own Flute [E4] - Native American-Style Flutes
Original price
$ 340.00
-
Original price
$ 340.00

Design Your Own E4 Flute
Introducing our "Design Your Own Flute" option, where your flute dreams become reality. Now you can select your preferred flute style, totem design, mouthpiece shape, finger hole placement and frequency! Ron Stutz from Native Sunrise Flutes will meticulously craft your custom flute based on your specifications. Expect your personalized flute to be finished within a two-week period. Delivery depends on the type of shipping you choose and the couriers. 
Your Design Options:
Flute Style:
Canyon Style Flutes: Inspired by the beautiful petroglyphs found in Nine Mile Canyon in Utah, these flutes feature a unique set of petroglyphs and a manufactured broken and burned end for a distinctive look.
Woodland Style Flutes: Featuring bark texture accents and painted rings. This style gives the feeling of a naturally carved piece of wood. 
Wood:
Spanish Cedar is currently the only wood option available on flutes in the key of E or lower. This wood will provide a warm sweet tone and showcase your preferred style perfectly. 
Block/Totem:
Choose from a variety of styles and textures to add just the right personality to your flute. 
Mouthpiece Shape:
Choose from a rounded or tapered mouthpiece based on your playing preference. 
Finger Hole Placement:
Choose to have the finger holes placed in a straight line or ergonomically placed for either the right or left hand on the bottom. This option is only available for flutes E4 and lower.  
Tuning Frequency:
Choose to have your flute tuned to the standard 440 Hz Concert Tuning or the alternative 432 Hz Consciousness Tuning.  
Wet-out protection
Ron's flutes come standard with an anti-wetting material under the block and in the flute which means you'll be able to play your flute for a long time without worrying about wetting it out! A flute-playing lifesaver for some! 
These flutes do not come with a fleece bag, please select a flute bag from our selection that best fits this flute.  

Made by Ron Stutz of Native Sunrise Flutes. 
*Not Native Made*