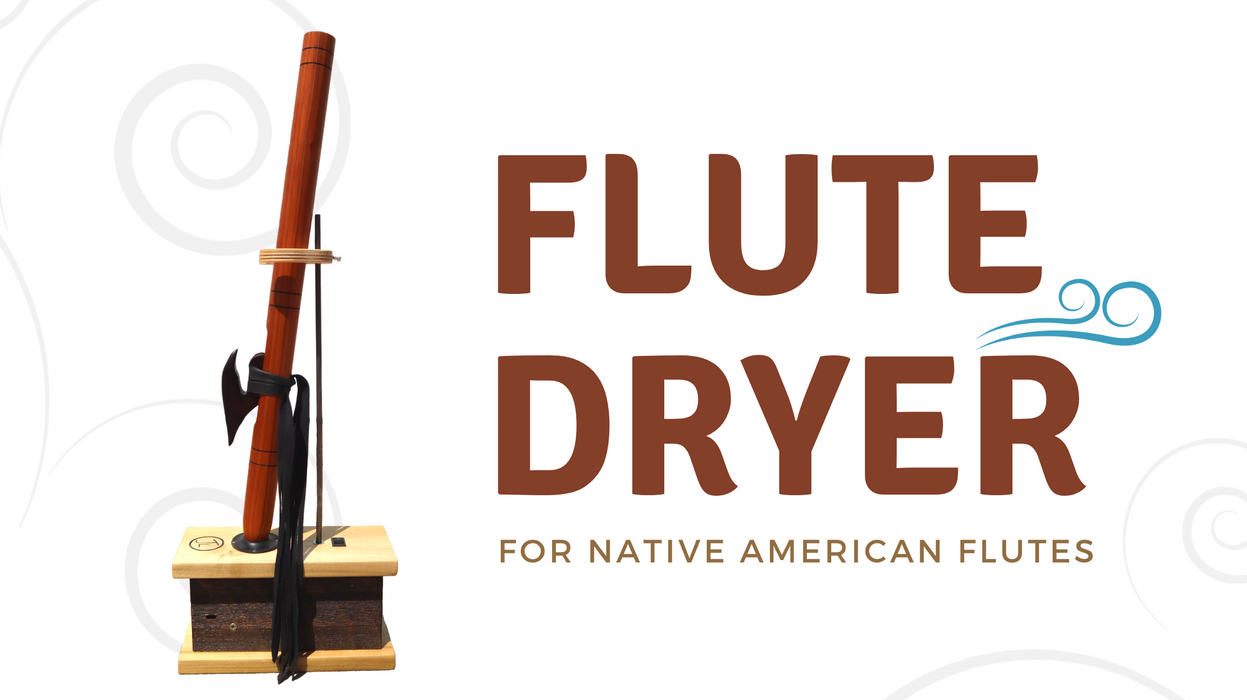 Native American Flute Dryer [Reduce Wet-Out Time!]
Original price
$ 97.00
-
Original price
$ 97.00
The Flute Dryer was invented to help the everyday flute player gain more playtime with their favorite Native American flutes and protect the investment they've made in flutes. Wetting out is an issue that we've all faced and, while some flute makers are addressing this issue in the construction of the flute, the majority of the flutes in our collections don't have these new methods built-in. That's where the Flute Dryer comes in. 
Depending on how a flute is made, once you wet it out, it may be done for the rest of the day. This Flute Dryer gives you back that playtime by drying your flute out in as little as 2 minutes! 
Benefits
This device has a solid, wooden box-shaped base that houses a 1-amp fan that blows cool, dry air into your flute. This dramatically reduces the time in which it takes to "air out" your flute after you've saturated it.
The small size of the Flute Dryer makes it easy to transport to gigs, camping or flute circles! 
It plugs in via USB so you can use an adapter to plug it into the wall, or directly into your computer or power bank if you're on the go!
The holder at the top is adjustable to accommodate both small and large flutes so you can use this for the majority of your flute collection!
The Flute Dryer speeds up dry time which takes some of the headache and long wait times out of proper flute maintenance. Dry your flutes before you hang them back up! 
The biggest benefit is that it supports the overall health and longevity of your flutes when using this after each play (even if your flute hasn't reached full wet-out)! 
How does it work? 
Remove the bird from your flute (or obstruct the airflow with a piece of leather, etc.) 
Place the flute upside down on the Flute Dryer and rest the mouthpiece on the rubber opening. If you have a smaller flute, there is a rod below the opening to catch them. 
Turn the fan on and let it work its magic! 
Under 5 minutes seems to be the sweet spot, but it greatly depends on the flute. Check it and see how your flute is responding. 
Note on Quantity In Stock: We work hard to keep flutes in stock, however, sometimes there is a lot of demand for a certain flute. If the flute you want out of stock, please click here to add yourself to the waitlist. You'll be the first to be notified of these flutes coming back in stock! Thank you for your understanding!
The Flute Dryer was developed by Ron Stutz and Dana Anderson.