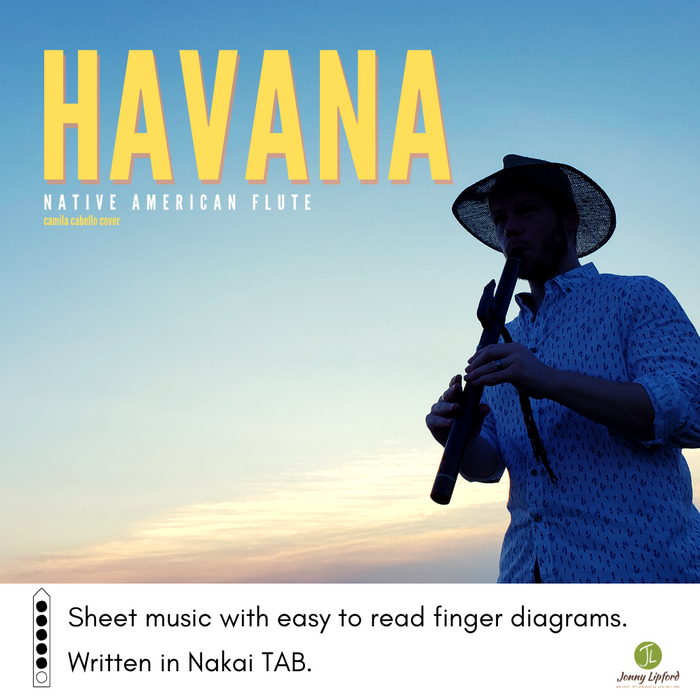 Havana - Sheet Music for Native American Flute [PDF]
Original price
$ 3.99
-
Original price
$ 3.99
This PDF download is the sheet music to Havana, played by Jonny Lipford on the Native American flute. This song has been transcribed to Nakai Tablature by David Wood. The song was originally played on an A minor flute.
You will find the following items in this pack.
A version of sheet music in Nakai TAB (with and without embellishments).

A PDF of "Key To Embellishments" that offers a description of the letters that you see by certain notes in the sheet music.
NOTICE TO PAYPAL USERS: 
For some reason, if you checkout using PayPal with this product, PayPal will flag the order for review and it could take 72hrs before your payment is cleared. You will get an automatic email from my website with the file, but it will not be able to be downloaded until your payment clears. This is due to the fact that the title of the product/song is "Havana" which is a strong Cuban name and Cuban-based products are heavily restricted in the US. I apologize for any inconvenience, however, for this product, you may want to use another form of payment than PayPal.
NOTE: The file is a compressed/zipped folder which you'll need to extract. Tutorials are available online if you need help. Files are in a PDF format which most devices will be able to open. If your device does not have a PDF Reader, you can download the latest version of Adobe Acrobat reader here:  https://get.adobe.com/reader/  
Watch this video below and subscribe to Jonny Lipford on YouTube!