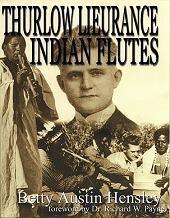 Thurlow Lieurance Indian Flutes (Book) - Betty Hensley
Save

52

%
Save

52

%
Original price
$ 25.00
-
Original price
$ 25.00
"Thurlow Lieurance: A Legacy in Native American Flute Music" is an insightful exploration of one of the earliest pioneers who introduced the Native American flute to contemporary music. Lieurance's renowned compositions like "By the Waters of Minnetonka", "Wi-UM", and "By Singing Waters" showcased his talent for adapting traditional indigenous music for the modern stage. Of the numerous flutes he collected, 12 have stood the test of time and are meticulously examined in this study by the accomplished flutist, Mrs. Betty Hensley.



Hensley, a virtuoso with a vast collection of world flutes under her mastery, brings her extensive knowledge of wind instrument tunings and characteristics to this profound examination. Her unique perspective breathes life into these historical pieces.


This newly revised edition features:

Detailed analysis of the 12 surviving flutes, delving into their history, tunings, tone, and unique attributes, vividly illustrated with four pages of color photography.
An accompanying CD that not only allows listeners to immerse themselves in the haunting sounds of these age-old flutes but also enjoy Lieurance's melodic works performed by Hensley herself.


Published by the Horizons Flute Store and edited by Douglas Spotted Eagle, "Thurlow Lieurance: A Legacy in Native American Flute Music" is more than just a book; it's an invitation to experience a rich musical heritage firsthand.