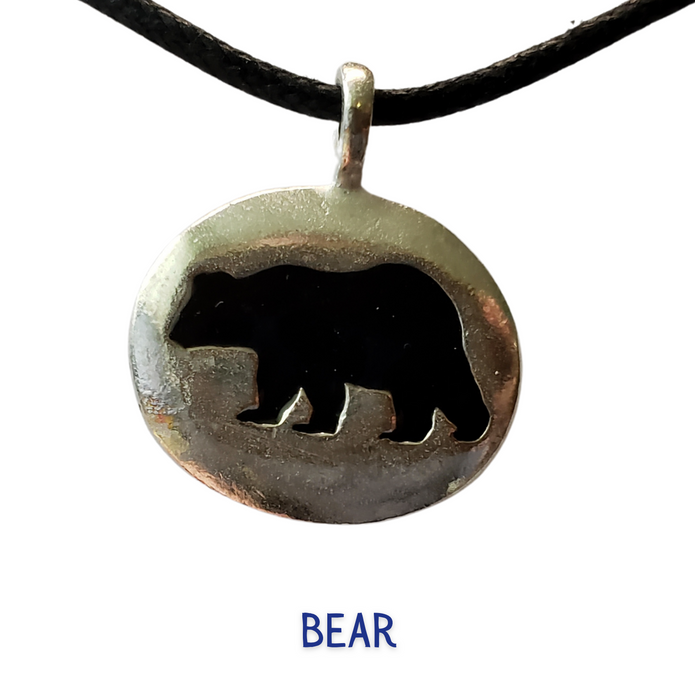 Animal Spirit Necklaces
Original price
$ 10.00
-
Original price
$ 10.00
These cast pewter pendants honor the animal spirit guides. Each design is set within an oval of pewter and finished with black enamel. The pendant comes with a black woven cord that adjusts with sliding knots and a descriptive card.
Made in the United States of lead- and nickel-safe pewter.

Condition: New
Dimensions: Approx. 1 in (width), 7/8 in (height)
Material: Lead-free pewter
Bear represents spiritual strength, introspection, knowledge, balance and independent thinking.
Butterfly represents the spirit of spiritual growth, bringer of joy and peace.
Dragonfly is the messenger of the elemental, dreams, enlightenment and change.
Eagle is the sacred messenger and carries prayers to the Creator and returns with gifts and visions.
Frog represents the spirit of feminine energy, creativity and new life.
Horse represents inner power, grounding, safe travel, freedom, speed, grace and strength. 
Hummingbird represents tireless joy, perspective and accomplishing the impossible.
Kokopelli represents the spirit of music and creativity.
Lizard represents the spirit of letting go, change and new beginnings. 
Raven represents the spirit of intelligence, wellness and is regarded as the keeper of secrets. 
Wolf represents the spirit of cooperation, loyalty, family, intelligence and freedom.