New Horizons For The Oregon Flute Store!

With warmth and gratitude for their 27 years of unwavering dedication, Jeff and JoAnn Calavan, the esteemed founders of the Oregon Flute Store, are joyfully passing the baton to Jonny & Maria Lipford. In this exciting new chapter, the Oregon Flute Store will be embracing a fresh identity as the Horizons Flute Store.
Jonny and Maria are thrilled to welcome all previous Oregon Flute Store patrons and extend an invitation to join them on this vibrant journey of growth. As they build upon the legacy left by the Calavans, they assure you that your experience with the Horizons Flute Store will be marked by the same level of care and personal attention that you've come to expect. Welcome to the Horizons Flute Store family!
Celebrating a New Chapter: Founders of Oregon Flute Store Pass Torch to Jonny and Maria Lipford, Ensuring Continuity of Core Values in Their Beloved Business
It is not easy to retire from a business that we spent our life building and love so much. Our customers are family and we love them. JoAnn and I set out to find the perfect match to carry on our core values of exceptional customer service and dedication to preserving the flute's rich history.
Jonny and Maria already possess these core values and can take what JoAnn and I have created over the last 27 years, and build on its rich foundation. We hope you support their family and join them in harmony on this wonderful journey.
The Calavans / Oregon Flute Store Founders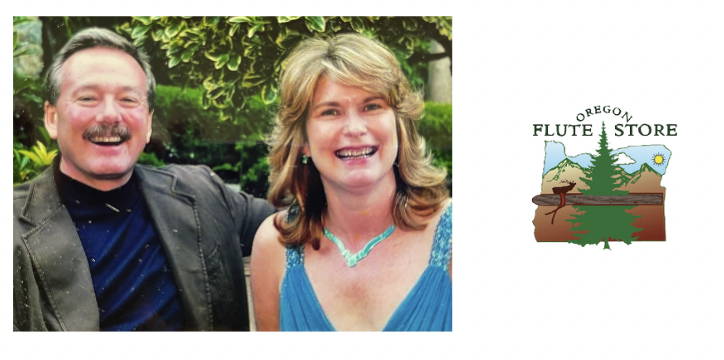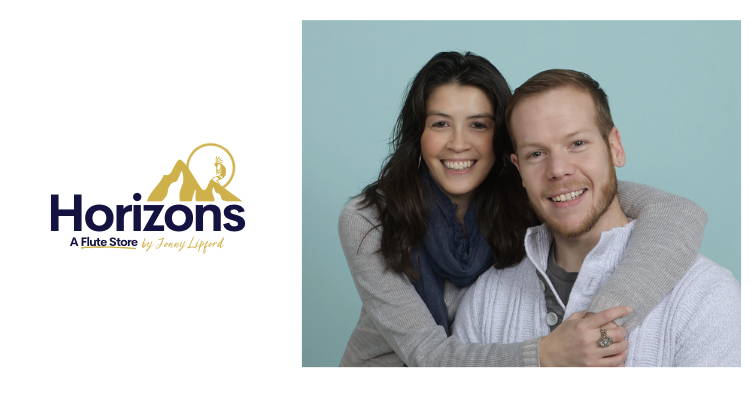 Embracing Legacy: Jonny and Maria Lipford Honored to Carry Forward the Oregon Flute Store's 27-Year Tradition, Pledging Continued Support to the Flute Community
The Calavans' journey with the Oregon Flute Store for the past 27 years has been a magical testament to building something substantial from scratch. Maria and I are honored to take on this legacy as they retire. With over 20 years of my life enriched by this flute community, we see the acquisition of the store as an opportunity to support further and serve flute players of every level.
We're thrilled and humbled by this new chapter and ask for continued support and patience as we build upon this solid foundation. The potential is limitless, and we can't wait to share this journey with you.
The Lipfords / Horizons Flute Store Owners
CEDAR RAPIDS, IOWA – August 2023 – Jonny Lipford and Maria Lipford, esteemed figures in the flute community, have announced their acquisition of the Oregon Flute Store.
This institution, serving Native American flute enthusiasts for over 27 years, is set to embark on a new chapter under the Lipfords' stewardship, rebranded as the Horizons Flute Store. Jeff and JoAnn Calavan, the original owners of the Oregon Flute Store, are retiring after nearly three decades of building a vibrant flute community.
"We're deeply honored to continue the legacy that Jeff and JoAnn have cultivated," said Jonny Lipford. "Their commitment to the community has been unwavering, and we carry this responsibility with profound respect." The Lipfords' vision for the Horizons Flute Store involves honoring the legacy of the Oregon Flute Store while broadening its offerings and services.
Committed to serving flute players of all levels, they aim to provide high-quality products and exceptional customer service. During the transition, customers will notice immediate changes, including staffing adaptations, changes in product availability, and significant website updates. The existing Oregon Flute Store website will redirect to the new Horizons Flute Store website. In addition, Jonny's current site, jonnylipfordmusic.com, will also transition to horizonsflutestore.com, ensuring a seamless digital shift for customers. "We're dedicated to ensuring our customers are well taken care of during this change," explained Jonny. "However, we ask for understanding and patience from our community as we navigate this exciting transition."
In addition to offering popular flute cases, books, flutes, and other merchandise for which the Oregon Flute Store was known, the Lipfords plan to introduce new products to serve the greater flute community better. They also aim to integrate the Horizons Flute Store with the already successful Horizons Flute School. Horizons Flute School, Jonny Lipford's teaching platform, offers a wealth of learning resources for flute enthusiasts. From courses and workshops to live Q&A sessions and flute circles, the school provides numerous opportunities for flute players to expand their skills and join a supportive community.
By aligning the store and the school, the Lipfords hope to create a comprehensive resource hub that caters to every aspect of the flute journey. "Maria and I are thrilled to serve the flute community in this capacity," said Jonny. "We're eager to see what the future holds and can't wait to have you join us on this journey!"
Send us an email anytime! We will be happy to answer your questions.