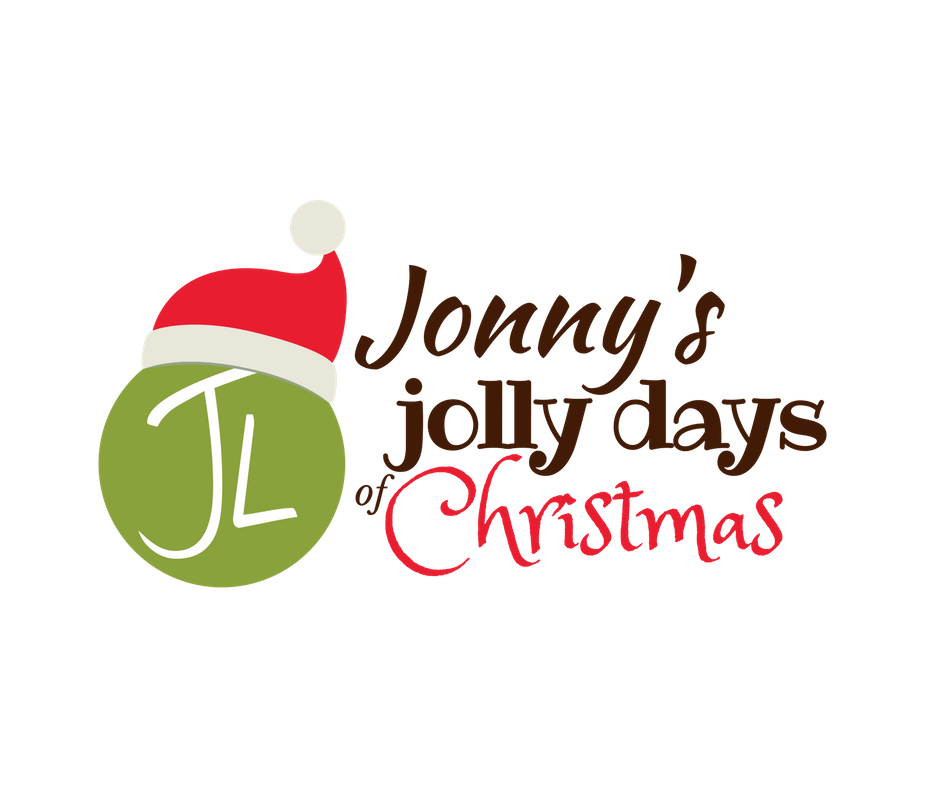 CONTEST HAS OFFICIALLY ENDED
Jonny started his journey with the Native American flute on Christmas day in 2002.
Now we're giving you a chance to start (or continue) your flute journey!
Drawing starts November 20th and ends December 20th. Winner will be announced December 24th, 2019!
YOU COULD WIN ANY ONE OF THESE THREE PRIZES!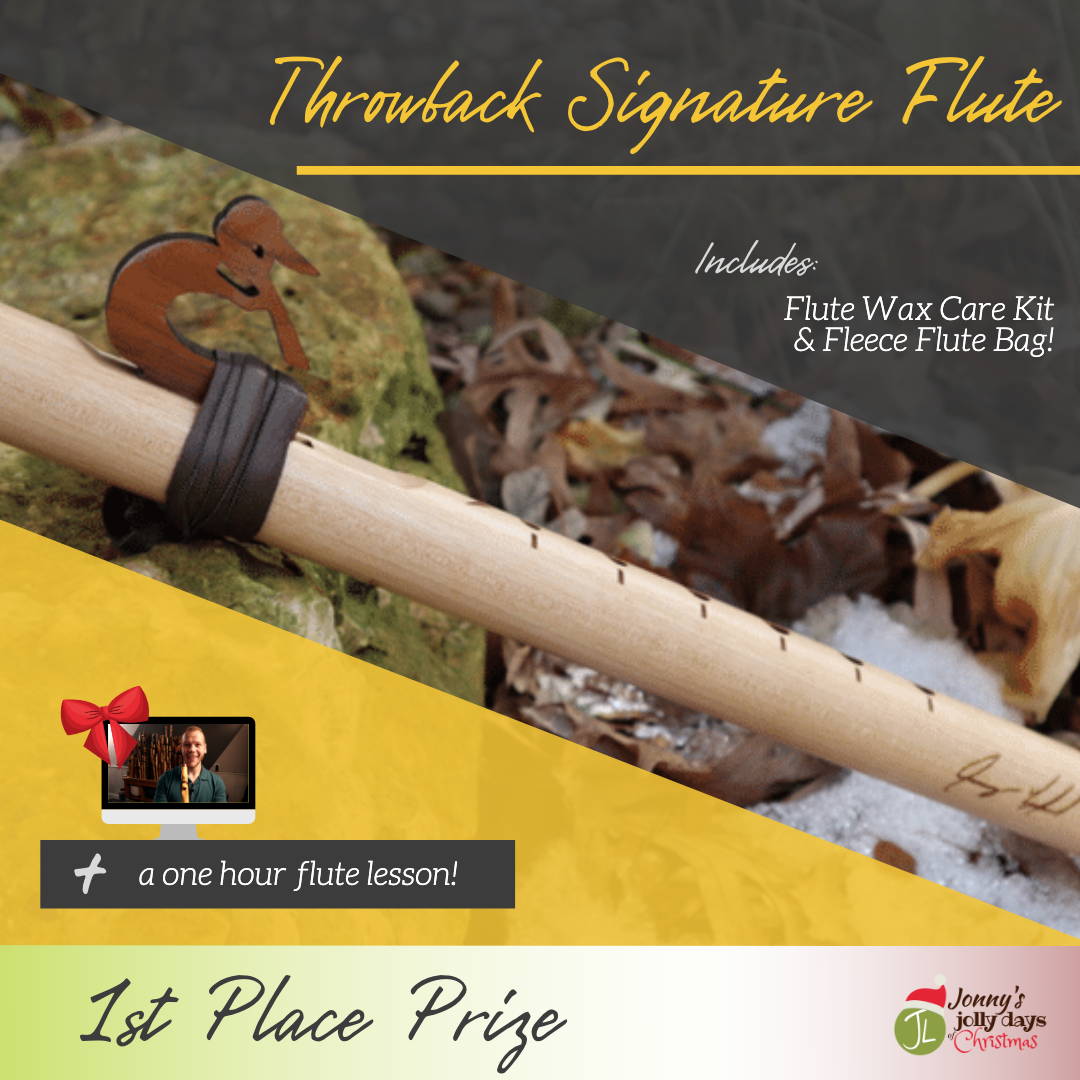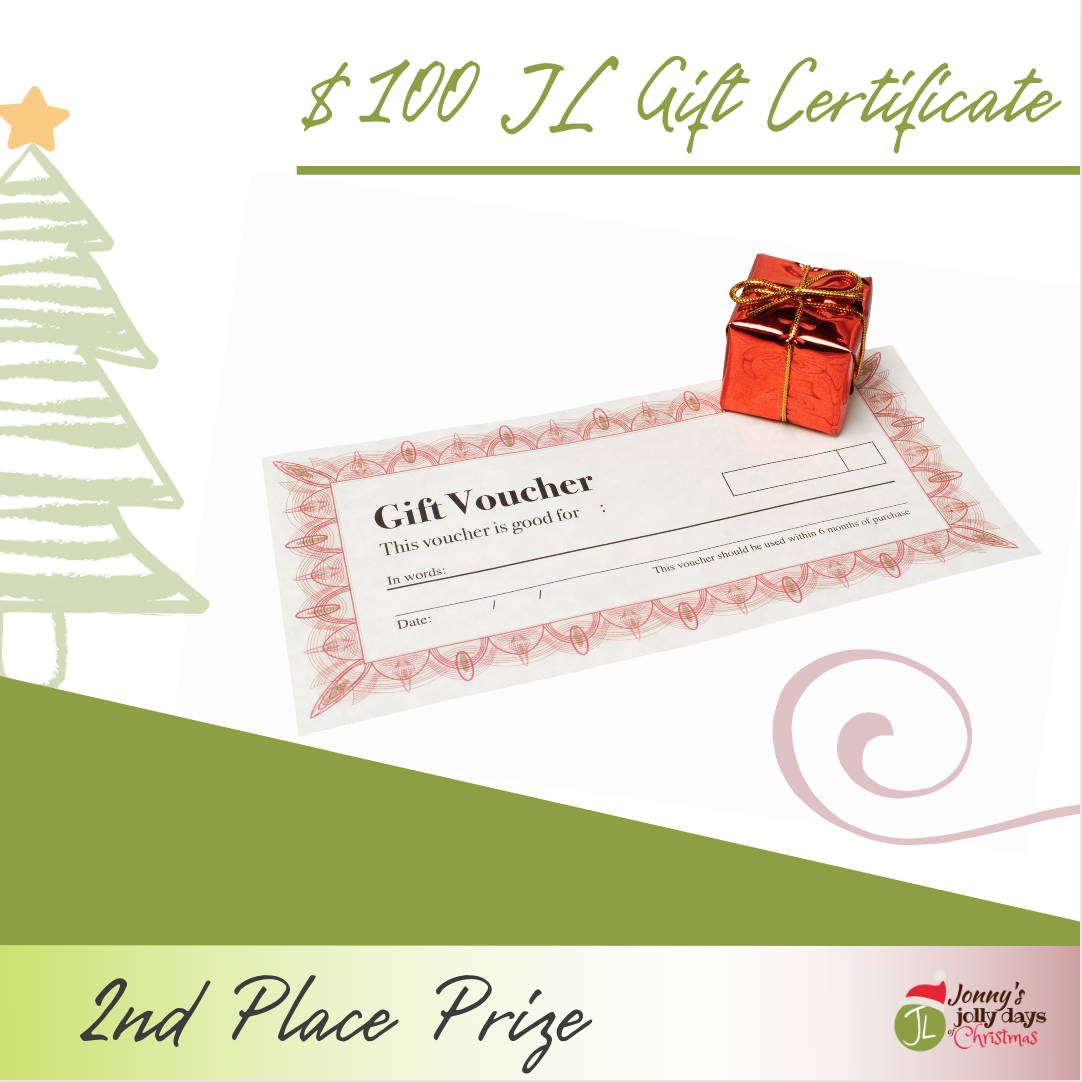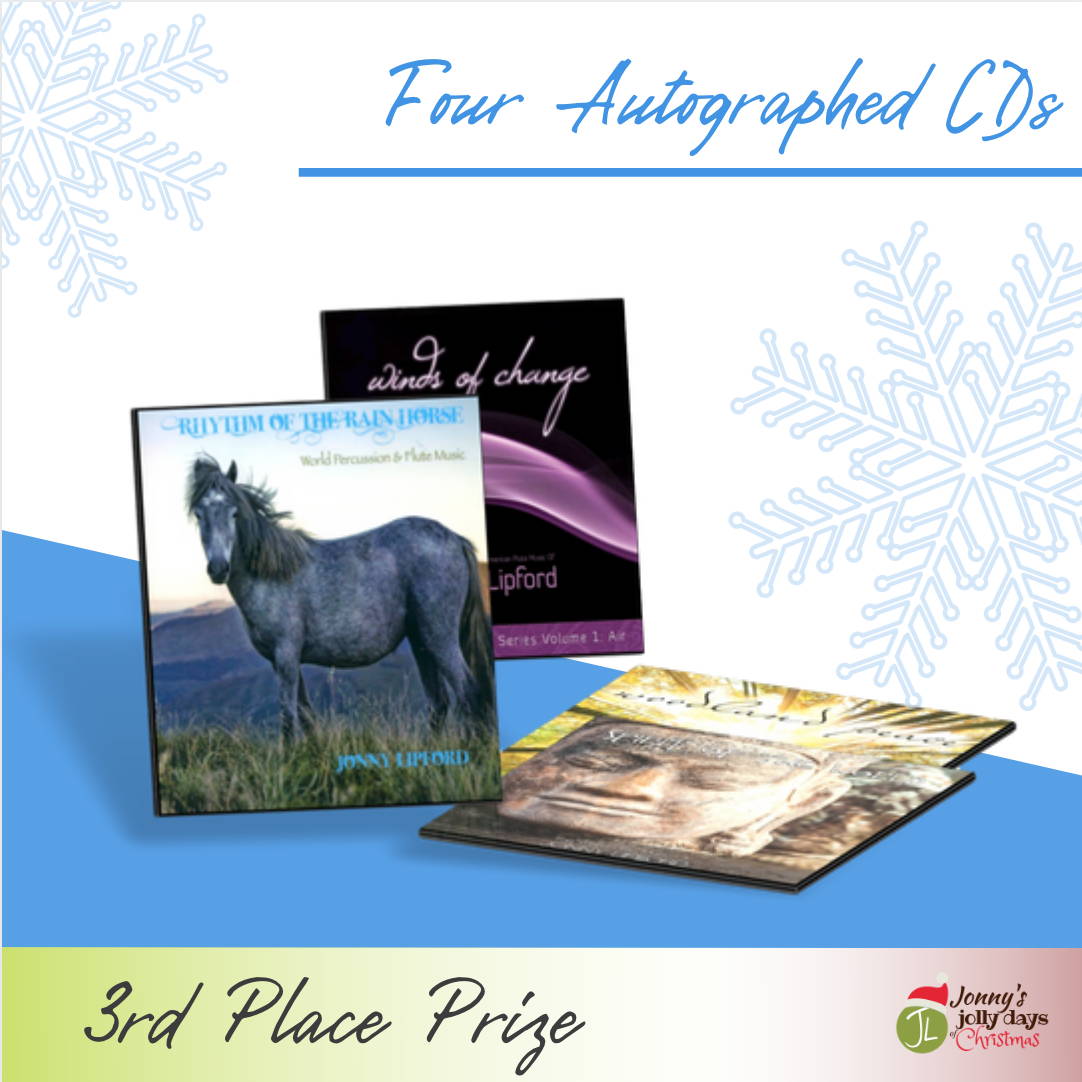 Subscribe on YouTube! It's totally FREE and easy!
Plus, you'll be among the first to be notified of new music videos, flute reviews and tutorials!
Mark your calendar and join us on Jonny's Music Facebook Page as we announce the winners LIVE!
When? December 24th, 2019 at 2 p.m. CST
OFFICIAL RULES • NO PURCHASE NECESSARY1. Eligibility: The Jonny's Jolly Days of Christmas Giveaway (the "Giveaway") is open to anyone above the age of 18 years old.2. Prizes: The Giveaway allows Entrants to enter random drawings for a chance at one of three prizes. The FIRST PLACE prize is a JL "Throwback" Signature flute and one-hour (online) flute lesson; SECOND PLACE prize is a $100 Jonny Lipford Music Gift Certificate; and the THIRD PLACE prize is a set of 4 autographed Jonny Lipford CDs. The average retail value ("ARV") of the FIRST PLACE prize is $200; SECOND PLACE prize is $100; and THIRD PLACE prize is $60. The total ARV of all Prizes is $360.THE ODDS OF WINNING ANY PRIZE DEPENDS ON THE TOTAL NUMBER OF ELIGIBLE ENTRIES RECEIVED. No Prize substitution or cash alternative is allowed. The Winner will be solely responsible for all federal, state and/or local taxes, and for any other fees or costs associated with the Prize received.3. Giveaway Period: The Giveaway shall begin at 12:00 p.m. Central Time ("CT") on November 20th, 2019 and shall end at 11:59 p.m. CT on December 20, 2019 ("Giveaway Period").4. How to Enter: To enter the Giveaway you are asked to subscribe to Jonny Lipford's YouTube Channel (optional), however, you must use the form on Jonny's website to subscribe to Jonny Lipford's email Newsletter. Entries must be received during the Giveaway Period.5. Winning: The winners of the Giveaway ("Winner") shall be chosen by Jonny Lipford. The Winner shall be chosen on December 23rd, 2019 and announced on Jonny Lipford's Facebook Music Page LIVE on December 24th at 2 p.m. CST.6. Prize Claim: The Winner will be notified within 2 days of the drawing via email.7. YouTube Policies Your participation in and entry into this giveaway must be in compliance with YouTube's own Community Guidelines. Entries which don't comply with YouTube's Community Guidelines will be disqualified. YouTube is not a sponsor of this Giveaway. By entering this Giveaway, you release YouTube from any and all liability related to this Giveaway. 8. Your Information will not be sold or distrubuted to anyone.