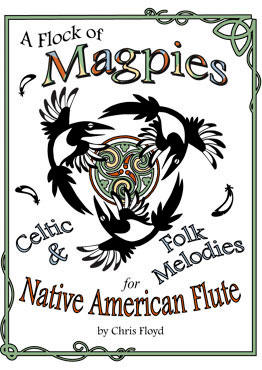 A Flock of Magpies: Celtic & Folk Melodies for the Native American Flute (Songbook) - Chris Floyd
Sold out
Original price
$ 25.00
-
Original price
$ 25.00
A Flock of Magpies Celtic & Folk Melodies for the Native American Flute 
Songbook with Accompanying CD 
By Chris Floyd
23 original and traditional airs, waltzes, jigs, and reels, arranged and transcribed for six-hole Native American Flute in Nakai Tablature.

This professionally printed 36-page book was designed with musicians in mind, with a lay-flat spiral binding and stiff heavy-weight cover. An enclosed CD includes performances of all tunes in the book. 
The songs in this book & CD set are listed below, and include traditional Irish, Scottish, Welsh, and American folk tunes, as well as original melodies inspired by these traditions.

The illustrated book also contains a fingering chart and musical glossary.
Songs:
The Chocolate Lily Waltz
An Eala Bhan
Culross Passage
A Flock of Magpies
The Floatplane Reel
Green Lake
Going Home
Heather Island
Hunting the Bolete
Kachemak Bay
Callisto Head
Makushin
Ned of the Hill
The Northern Shore
Raglan Road
October's Waltz
The Oystercatcher
The Rowan Tree
Simple Gifts
Suo Gan
The Swallow's Lullaby
The Snipe upon a Pale Midnight Sky
Shule Aroon