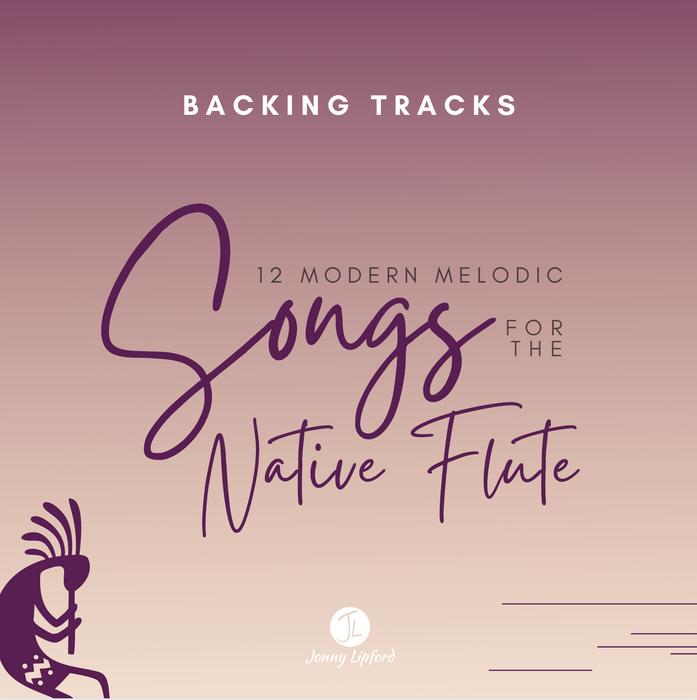 Backing Tracks for 12 Songs for the Native Flute: Vol. 1
Original price
$ 59.00
-
Original price
$ 59.00
Award-winning recording artist and educator, Jonny Lipford is recognized for his deeply melodic and innovative music for the modern Native American flute. Jonny is passionate about sharing the music of the Native American flute and in his songbook, 12 Songs for the Native Flute Vol. 1, you can learn how to play twelve of his iconic songs on your six-hole flute. These are the backing tracks to accompany those twelve songs.
Backing Tracks in FIVE keys! 
We realize that flutes are tuned to different keys, which is why we offer these backing tracks in several keys!
With A Light Heart (Original Key Cm)

Keys of Tracks: Dm, D#m, Cm, Bm, Bbm 

Forgiven Memories (

Original Key 

Am)

Keys of Tracks: Bm, Bbm, Am, G#m, Gm 

Got No Worry (

Original Key 

Bbm)

Keys of Tracks: Cm, Bm, Bbm, Am, G#m

In A Hammock (

Original Key 

F#m)

Keys of Tracks: Gm, G#m, F#m, Fm, Em 

In The Misty Night (

Original Key 

Dm)

Keys of Tracks: Em, D#m, Dm, C#m, Cm 

Little Boy (

Original Key 

Am)

Keys of Tracks: Bm, Bbm, Am, G#m, Gm

Part Of Me (

Original Key 

Dm)

Keys of Tracks: Em, D#m, Dm, C#m, Cm 

Water Drops (

Original Key 

Bbm)

Keys of Tracks: Cm, Bm, Bbm, Am, G#m

A Little More Time (

Original Key 

Am)

Keys of Tracks: Bm, Bbm, Am, G#m, Gm

Chosen Path (

Original Key 

Am)

Keys of Tracks: Bm, Bbm, Am, G#m, Gm

From A Distance (

Original Key 

Dm)

Keys of Tracks: Em, D#m, Dm, C#m, Cm

Beyond The Sea (

Original Key 

Bbm)

Keys of Tracks: Cm, Bm, Bbm, Am, G#m
Additional Resources: 
You will also find a variety of helpful resources to help you have a deeper understanding of these songs––these resources include: